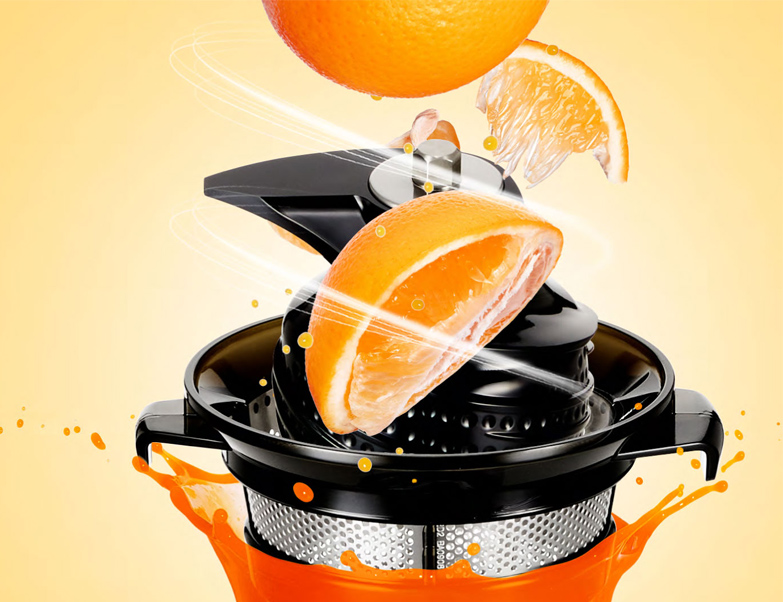 A fine mesh strainer and an Ultem screw ensure that every last drop of juice is extracted !
The Ultem screw with its spiral structure gives the Hurom H320N juicer a high extraction power. The particularly strong strainer allows even the largest pieces to be filtered out. Thanks to the low speed of 50 rpm, the juices are extracted cold, considerably reducing heat generation and oxidation. Enjoy the sweetness and intense flavours of your juices.
136 mm opening, for a maximum hopper size
An opening 3 times larger than the existing 45 mm opening. Insert whole apples and oranges ! The Hurom H320N juicer has an extra-large 2L hopper that can be filled with fruit and vegetables and juiced in a jiffy. An additional opening allows you to add ingredients at any time, even during the extraction process.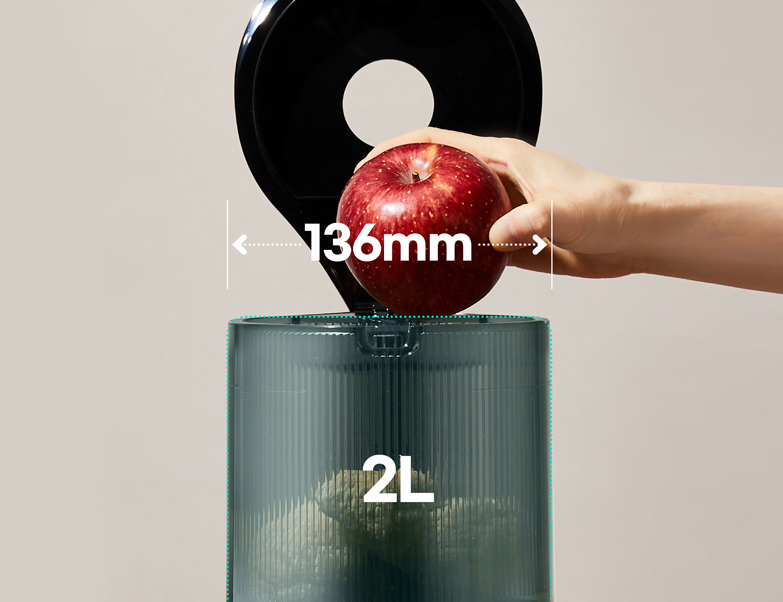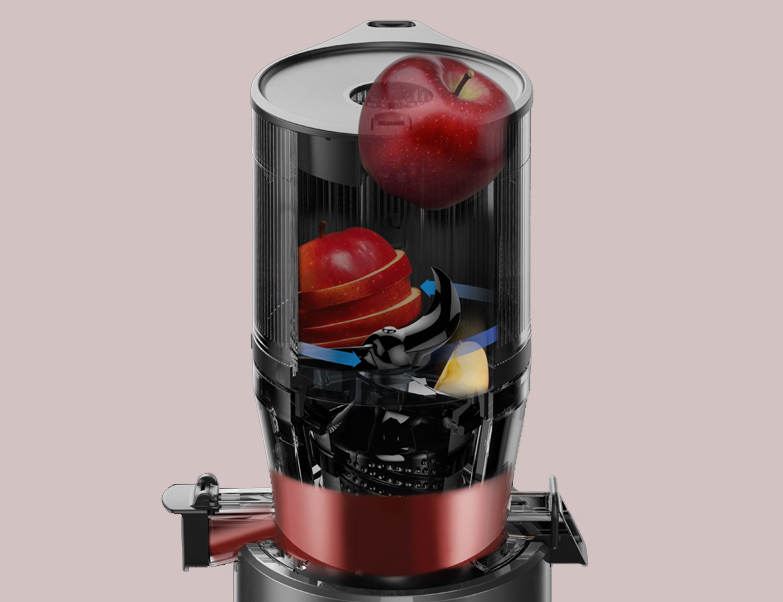 Intelligent automatic cutting and extraction function
With the Hurom H320N juicer, ingredients can be inserted whole, unprocessed. Cutting and juicing are automatic, for unprecedented ease. Simply fill the extra large hopper and the juice is prepared for you automatically.
A rotating brush for gentle extraction
The slow rotating brush (17 rpm) facilitates extraction by cleaning the fine mesh filter and homogenises the juice for an even smoother extraction.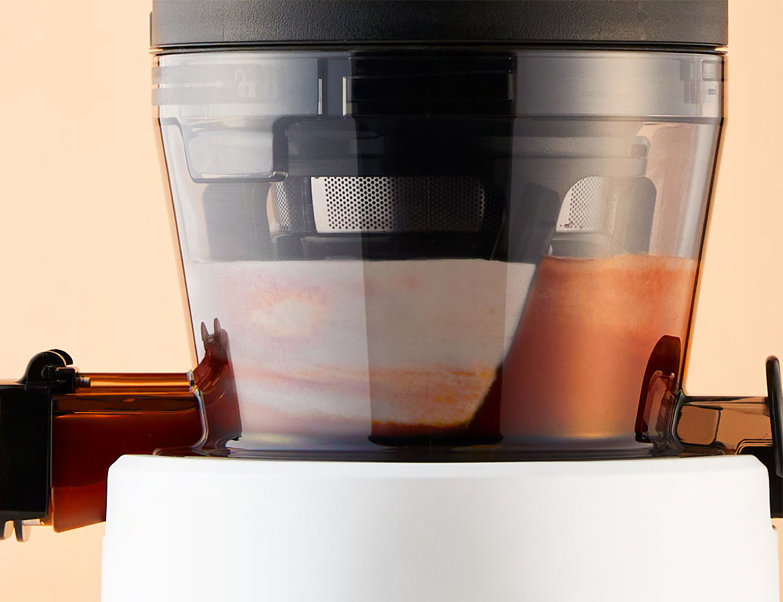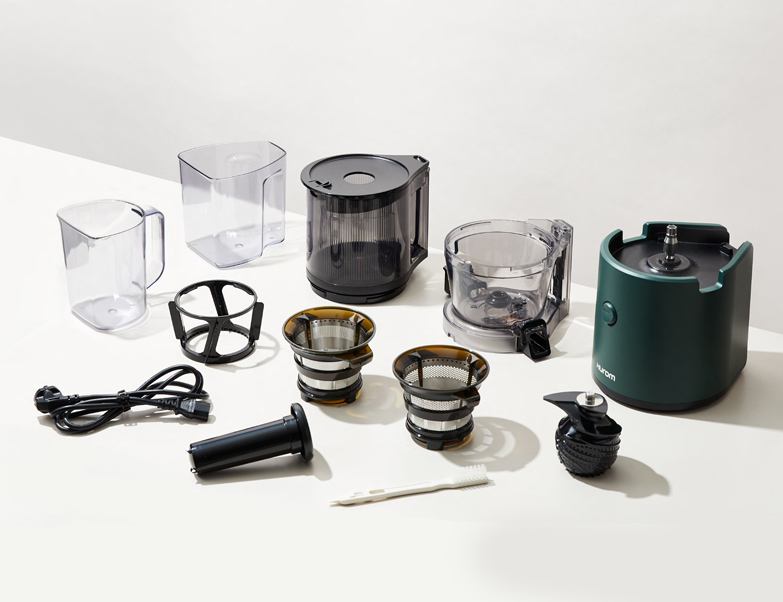 Characteristics of BPA-FREE components
Tritan, used in baby bottles. Stainless steel strainers, less prone to germs. Ultem strainers, non-toxic plastic. Ultem worms, resistant to high pressure. HUROM has carefully selected its materials with your health in mind.
Perfect for
I want a very clear juice with a minimum of pulp in the juice.
I don't mind spending a little extra time cleaning the strainer with a brush.
→H320N
I prefer/ don't mind juicing fruit pulps.
I don't want to spend much time cleaning the juicer.
→H300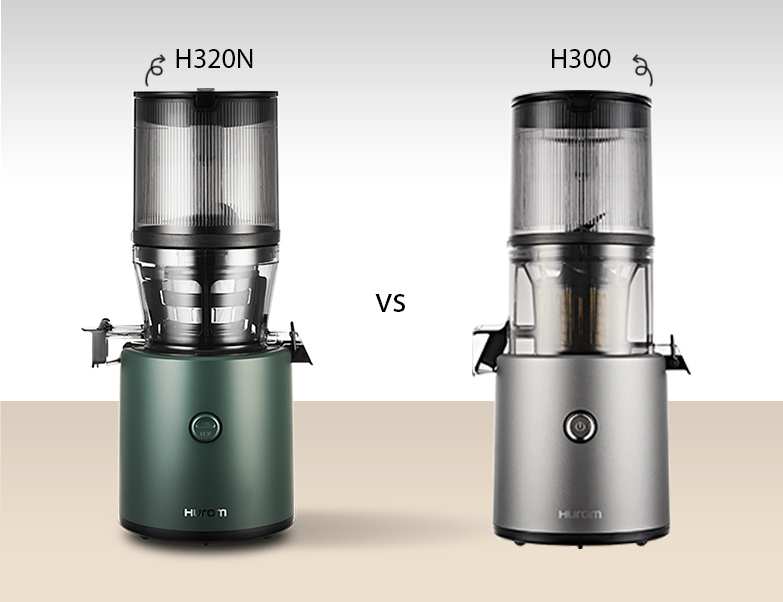 Hurom H320N versus H300
– rpm : 50 rpm (H320N) | 60 rpm (H300)
– Filter Type : Fine & Coarse, Ultem + Stainless Steel Mesh (H320N) | Easy Clean, BPA Free Ultem Filter (H300)
– Ice cream : Available using an ice cream strainer *The ice cream strainer will soon be available for purchase separately on the website (H320N) | O (H300)
– Fine filter : O (H320N) | X (Multivis – All-in-one strainer) (H300)
– Coarse strainer : O (H320N) | X (Multivis – All-in-one strainer) (H300)
– Multi screw – All-in-one strainer : X (H320N) | O (H300)
– Rotating brush : O (H320N) | X (H300)
– Strength : Minimised fruit pulp in the juice, a rotating brush mixes the juice evenly (H320N) | Fast and easy cleaning, with only one strainer can make juice to ice cream (H300)